Cinnamon combines many ingredients to form aromatic teas such as: honey cinnamon tea, mint cinnamon tea, artichoke… Let's make this delicious cinnamon water recipe!
Cinnamon is a precious herb famous from ancient times to now, it is very good for the body. In addition to being used as a spice, cinnamon is also used to cook cinnamon water with a few other ingredients to drink to help restore health and improve the functioning of the organs.
Drinking cinnamon water is also a way to relax, reduce stress and increase longevity. The ingredients used to cook cinnamon juice are derived from herbs such as cinnamon, jujube, honey, ginger, etc., so they are completely benign and common.
How to cook cinnamon water is very simple, less time consuming and not fussy. On chilly days; Drinking a glass of cinnamon water will warm the stomach, prevent colds, wind, anorexia and insomnia. This drink is very nutritious and suitable for the elderly to improve mental clarity. Let's see the details of how to cook tea variations from cinnamon with Mucwomen.
1. How to make homemade cinnamon tea
Referring to cinnamon tea, people often think of home-brewed tea cups rather than at a tea shop. Moreover, cinnamon tea outside the shop is not necessarily made from 100% natural cinnamon bark, but a chemical cinnamon flavoring that will be very harmful to health. So, protect your health with a cup of homemade cinnamon tea in the following way.
Want to drink a cup of spicy cinnamon tea with a strong flavor at home; Just spend 5 minutes following the following recipe!
Ingredients for making cinnamon tea
1 small cinnamon stick
200ml filtered water
1 little honey (optional ratio)
1 little rock sugar (optional ratio)
1 slice of lemon
Cinnamon is the part obtained from the bark of the stems and branches of some plants of the genus Cinnamomum, with a spicy, aromatic taste that is used as medicine and as a spice in food processing.
How to make cinnamon tea
Step 1: Wash the cinnamon stick to remove dirt, then put the cinnamon stick in the teapot.
Step 2: Heat 200ml to nearly boiling, then pour hot water into the cinnamon tea pot. Next, steep the cinnamon tea for about 5 minutes.
Step 3: Add a little fresh lemon juice, a little honey and enjoy while still hot. In addition, you can also add a little rock sugar to make the cup of tea become a delicious sweet and easy to drink cinnamon sugar tea.
Finished products and enjoy cinnamon tea
Cinnamon tea has a yellow-brown color, smelling ivij slightly spicy, warm feeling for the body. When drinking cinnamon tea, the best thing is that when there is no need to add sugar or honey, the tea still has a sweet taste in the aftertaste; This is the drink of the elderly who want to experience the taste of life.
Cinnamon tea is a bit spicy, but it doesn't sting the nose, it's just spicy. Very subtle in that it only sweeps the corner of the mouth, and then after taking a deep breath, the bitter taste appears. Finally, the sweetness from the cinnamon tea just melts into the mouth like a wonderful happy ending.
Drinking cinnamon tea is most appropriate on days when the weather turns to autumn and winter. Because we don't just need thick clothes; but also need a cup of fragrant cinnamon tea to warm my heart.
You can put tea in a thermos and then bring it to work and study places. Another great thing is to cook for friends, family, and colleagues as a warm meaningful gift.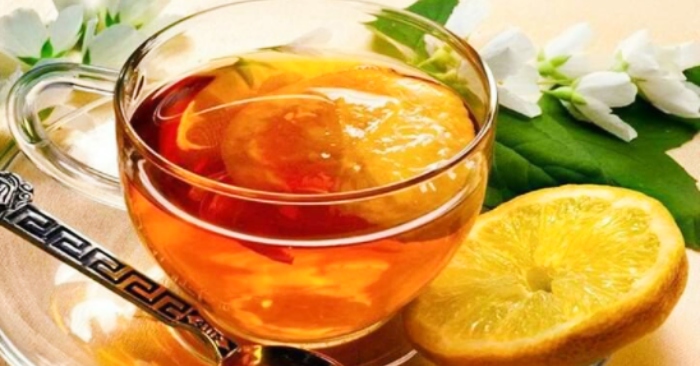 Use cinnamon to cook: Cinnamon bark is an indispensable spice in dishes such as medicinal herbs, in India they also use cinnamon bark as a curry flavor.
2. How to cook cinnamon tea in filter bag
This is considered an alternative solution for busy people who do not have time to buy processed cinnamon bark, so buying filter bags is a suitable drink everywhere. Some types of cinnamon tea bag filter also include accompanying flavors such as green tea leaves, black tea, … dried combined with cinnamon flavor.
In particular, cinnamon tea in the form of filter bags when brewed is as delicious as cinnamon tea if purchased at reputable quality stores.
Ingredients to make cinnamon water in bag form
1 pack of cinnamon tea in filter bag
250ml filtered water
How to make delicious cinnamon tea bags
Step 1: Heat 250ml of water until it boils to 100 degrees; then let it cool down to about 90 degrees (for about 2-3 minutes). Then, take about 50ml of hot water, rinse the tea utensils (teapot, tea cup) and pour the water away.
Step 2: Place the cinnamon tea bag filter bag into the tea maker. Then, pour the remaining 200ml of hot water to steep the tea for about 3-4 minutes to be able to enjoy it.
Finished cinnamon tea in filter bag
This tea bag form of cinnamon will have a mild flavor with a strong aroma of cinnamon bark. If you are not someone who has a delicate taste and specializes in tea, it is difficult to realize that they are not brewed from the bark of the cinnamon tree.
Usually, cinnamon tea bags will cost a little more than other tea bags. The current price is about 40,000 – 45,000 VND / 20 bags.
Box: 15 packs of Cinnamon bark in harmony with natural herbs will bring you a delicious cup of tea, helping to relax your spirit.
3. How to make cinnamon honey tea
Cinnamon tea inherently has a naturally sweet taste; slightly spicy without adding any sweetener at all. However, many people who like sweet can still combine with honey; to make cinnamon tea more fragrant and sweeter.
Therefore, the name cinnamon honey tea is always mentioned when people want to enjoy a cup of cinnamon tea.
Ingredients for how to cook cinnamon honey tea
1 cinnamon stick (1 small piece)
250 ml of filtered water
10-20 ml honey (the purer the better)
How to cook hot cinnamon honey tea with a strong aroma
Step 1: Boil 250ml of water, then wait about 3-4 minutes for the water to cool down; Pour 50ml of hot water to rinse the teapot, then pour it out.
Step 2: Put the cinnamon stick into the teapot first; Pour in the remaining 200ml of hot water to brew cinnamon tea for 3-4 minutes.
Step 3: Pour 10-20ml of honey into the kettle and stir well. Then taste and add honey as you like. However, please note that too much honey should not be used as it will cause side effects such as; affects the gastrointestinal tract, eroding the lining of the stomach, …
Finished cinnamon honey tea
The cup of cinnamon honey tea has a light yellow color, the tea water is wavy and the aroma is strong throughout the house. With this tea, there is no need to wait for the aftertaste, just sip your lips to feel the sweetness. The sweetness from honey will quickly touch the tip of the tongue and then spread throughout the oral cavity, very interesting.
Cinnamon honey tea is a drink that many women trust and use as a therapy for disease prevention and divine weight loss.
4. How to cook artichoke cinnamon tea (Caribbean Sorrel tea)
Perhaps the name of this artichoke cinnamon tea will sound a bit strange to many people – even tea connoisseurs! Because, it is not a popular tea in our country. However, this is a very popular drink in Latin America.
In fact, artichoke cinnamon tea is a famous beverage in the Caribbean. Especially during the Christmas holidays. Because they have both a spicy and warm aroma from cinnamon and anise; and has the bright red color from the artichoke flowers.
Ingredients for making artichoke cinnamon tea
9 dried red artichoke flowers (we recommend using dried artichokes for more flavor)
2 cinnamon sticks
500ml filtered water
3-4 anise flowers
2 pieces of fresh orange peel
1 little rock sugar/honey
(It is recommended to use dried artichoke cotton to make artichoke cinnamon tea with a richer flavor and more beautiful color than fresh artichoke flowers.)
How to make artichoke cinnamon tea with red tea color, sweet and sour taste
Step 1: Put all the above ingredients into the pot; Cook over low heat for about 10 minutes.
Step 2: Turn off the stove, let it cool for at least 30 minutes and up to 2 hours. After that, filter the mixture to get water, and then put it in a glass jar to keep the temperature. Can be served cold or hot as you like.
Step 3: Add a little rock sugar and honey to enjoy.
Finished artichoke cinnamon tea
Cinnamon artichoke tea has a mild sour taste from red artichoke flowers, mixed with the characteristic aroma of cinnamon and star anise. Therefore, it is very popular in the Caribbean and every Christmas season in particular.
Note: red artichoke flowers have a very dark color and they are often used as a raw material for dyeing pink and red fabric. So; Do not wear light colored clothes/aprons when making this tea, if it falls on it, it will be difficult to clean the stains.
Red artichoke flowers are rich in nutrients, containing acids and proteins, vitamin C and other antibiotic properties..
5. How to make cinnamon mint tea
Peppermint tea is a tea that is loved by many people because of its cool taste that clears the throat. However, the combination of 2 ingredients mint and cinnamon; is a bold idea that has been accepted and used by many people.
Although 2 independent teas; But when combined, it is also attractive by the strong aroma for an energetic morning. If you have a small mint plant at home, why not try the mint cinnamon tea below.
Ingredients for preparing mint cinnamon tea
2-3 spearmint leaves (also known as spearmint leaves)
1 small cinnamon stick (1/2 regular cinnamon stick)
350ml filtered water
1 little rock sugar and honey
How to make cinnamon mint tea
Step 1: Wash the mint leaves to remove the dirt. Break the cinnamon stick into small pieces so that each piece of cinnamon bark is about a knuckle.
Step 2: Boil 350ml of water, wait 3-4 minutes for the boiling water to cool down. Pour about 50ml of hot water to rinse the teapot to make it warm.
Step 3: Put mint and cinnamon in hot water for about 5 minutes. When finished, you can add a little rock sugar or honey depending on your preference and enjoy.
Finished products of cinnamon and hawthorn tea
From the moment you open the lid of the teapot, make sure your kitchen is filled with the cool mint flavor and faintly spicy taste of cinnamon bark. This scent will be more intense when pouring tea into a cup and enjoying when it is cold.
Cinnamon mint tea has light yellow water; a little green thanks to the combination of mint leaves and small pieces of cinnamon. When drinking, you will feel the natural spicy taste to wake up the mind; stimulates all the senses.
This is the reason that many people like to make this tea to start the morning in less than 15 minutes. Beside the winter flax; This cup of cinnamon mint tea is also suitable for hot days with a few ice cubes. However, you should add a little more fresh lemon to make it more delicious.
Mint is a good source of vitamin A, a fat-soluble vitamin that is great for eye health and enhances night vision.
In addition, there are still some delicious cinnamon teas according to new variations of cinnamon tea recipes such as:
Cinnamon Peach Tea
Chamomile cinnamon tea
Red apple cinnamon tea
Cinnamon lemongrass tea
Rose cinnamon tea
Goji berry cinnamon tea
Apple cinnamon honey tea
Kumquat honey cinnamon tea
Cinnamon milk tea, …
9 miraculous benefits of drinking cinnamon tea regularly
Helps to lose weight effectively: Cinnamon honey tea is a great drink for weight loss; Eliminate toxins, reduce hunger and cravings.
Reduce abdominal pain during the "red light" day: Cinnamon contains pain relievers and anticoagulants, so it will support menstrual regulation.
Boosts Immunity: Cinnamon is rich in antioxidants like polyphenols and proanthocyanidins that help boost the immune system.
Reduce symptoms of polycystic ovary disease: Cinnamon juice helps reduce insulin resistance when suffering from this disease.
Improve brain function: Cinnamon tea helps improve memory and increase brain function; May slow the progression of Parkinson's and Alzheimer's disease.
Toothache relief: Cinnamon is a spice that can effectively relieve pain; Reduces symptoms of toothache and gum swelling.
Prevents Diabetes: Cinnamon tea contains several compounds like polyphenolic and antioxidants that help regulate blood sugar levels.
Prevents the possibility of cancer: Cinnamon contains compounds that have the ability to slow the growth of cancer cells.
Improve hearing: Cinnamon has another effect that is to restore the problems of the musculoskeletal system of hearing.
Above are ways to cook cinnamon water with a variety of flavors for a variety of choices. Choose your favorite cinnamon tea and make it and drink it every day.
See more:
How to cook perilla leaf juice to drink beautiful skin, good for health
How to cook Nhan Tran detox water, cool the liver, good for health
Bạn thấy bài viết Cách nấu nước quế thơm ngon giúp giải độc, giảm cân hiệu quả có khắc phục đươc vấn đề bạn tìm hiểu ko?, nếu ko hãy comment góp ý thêm về Cách nấu nước quế thơm ngon giúp giải độc, giảm cân hiệu quả bên dưới để HAG Việt Nam có thể thay đổi & cải thiện nội dung tốt hơn cho các bạn nhé! Cám ơn bạn đã ghé thăm Website: hagvietnam.com của HAG Việt Nam
Nhớ để nguồn bài viết này: Cách nấu nước quế thơm ngon giúp giải độc, giảm cân hiệu quả của website hagvietnam.com
Chuyên mục: Ẩm thực