Eaten with salt and eat right away
How to make salted lemongrass chili pepper
How to make sweet and sour salt figs
How to make salted fish to eat snails
Traditional way of salting figs
Northern way of salting figs
Add salt to keep for a long time
How to salt figs, kimchi
pickled salt
Sweet and sour salted figs are a side dish like pickles, can be used with meals or served with snacks such as boiled snails, fried spring rolls… Salted figs can both help the dish to increase the taste, It can also be anti-fatigue for greasy dishes. Today, let's go to the kitchen with HAG Việt Nam to learn how to make instant salted figs without getting dark!
You are viewing the article at: https://hagvietnam.com/
How to make pickled salt with vinegar
Ingredients for making pickled salt
200g figs.
Garlic, chili, lemongrass.
Salt, sugar, vinegar.
Note: With this method of making pickled figs, you should choose glutinous figs, small figs with small intestines and pink intestines, eating will be less acrid and crunchy.
How to salt figs to eat right away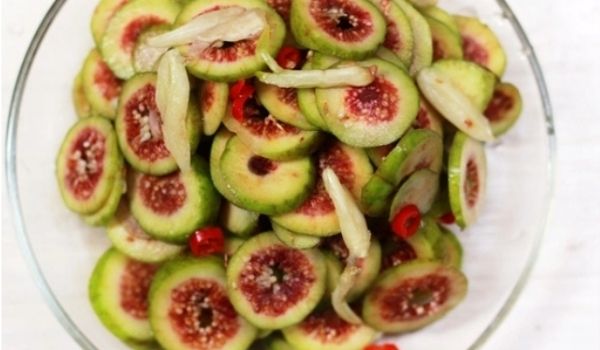 Step 1: Prepare a bowl of water, mix it with a little vinegar and salt. Vinegar will help clean the plastic so that when salted figs will not darken, salt will help reduce the bitterness of figs. You wash the figs, then slice them thinly and immediately drop them into a bowl of mixed water.
Step 2: You wash the figs in that bowl of water, then take them out, soak them in another bowl of water mixed with the same ingredients (this time mix more vinegar than the previous bowl) and soak for another 15 minutes, when you soak them. should put a plate on top of the water and then put a heavy object or a small bowl of water on top to keep the figs submerged in the water.
Step 3: After soaking, take out the figs and marinate them. Condiments include: 20g salt powder + 40gr sugar + 40gr vinegar + 1 chili cut into pieces + 1 clove of sliced ​​garlic + 2 chopped lemongrass. Mix the spice mixture well, pour into the jar and insert the mixed mixture to cover the surface of the figs, then let the figs infuse the spices for at least 30 minutes to be able to eat.
With this way of making pickled figs, you can immediately have a bowl of figs with a sweet and sour taste, used to eat with boiled snails or delicious rolls. In addition, if you do not like using vinegar, you can refer to how to eat sweet and sour figs with lemon below.
You are viewing the article at: https://hagvietnam.com/
How to make pickled salt with lemon
Material
Fresh figs (how to choose figs is the same as above).
Sugar, salt.
Lemon, garlic, chili.
How to make sweet and sour pickle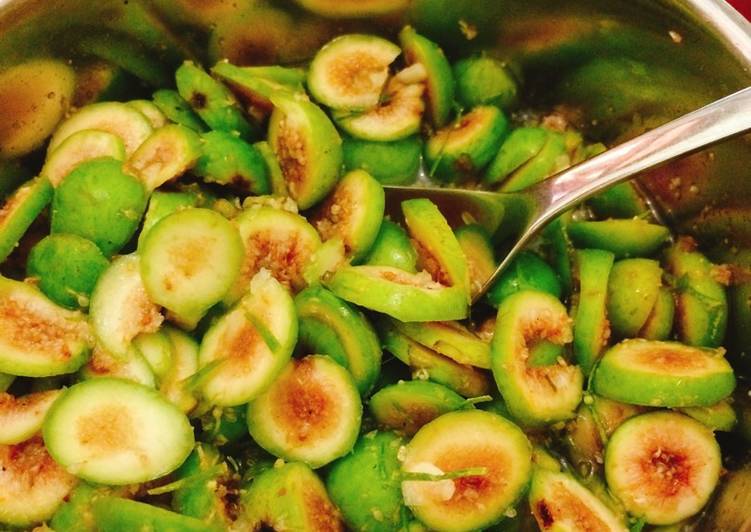 Step 1: Wash the figs, cut the stalks and then cut them in half and soak them in dilute salt water for 20 minutes to get rid of the acrid sap, then take them out into the basket to drain the water. Peeled and smashed garlic, chopped chili, squeezed lemon juice.
Step 2: Boil water and then let it cool until the water is lukewarm, then add sugar and salt in the ratio 50/50. Dissolve the sugar, salt in the water and let it cool down, then add the lemon juice and mix.
Step 3: Put minced figs and garlic into the jar in order of a layer of figs, then a layer of minced garlic and chili, then pour the mixture of salted figs mixed above until the water is submerged. stop.
Step 4: Place the compression disc on the surface of the jar to completely submerged in the water, then place it in a cool place to use it gradually. Successfully eating salted figs will have a sweet and sour taste, crispy and not acrid.
Note: With this method of salting figs, you can keep them for a few days, when the salt water starts to smell slightly sour but still have figs, you should take out all the figs and store them in the refrigerator. can eat for about 1-2 more days. If the brine already has a very strong sour taste, you should not try to eat the rest of the figs, but rather throw it away and salt another batch!
You are viewing the article at: https://hagvietnam.com/
How to make spicy and sour pickle
Ingredients for making pickled figs for 10 people
Figs 1 kg Galangal 1 bulb Chili pepper 2 pieces Garlic 2 bulbs Vinegar 600 ml Lemon 1 fruit Fish sauce 190 ml Sugar/salt 1 little
How to choose to buy fresh figs
You should choose to buy glutinous figs that are still on the bunch, not bruised, round.
If the figs are split, choose figs with beautiful colors, round fruits, concave knobs, and pink edges inside the intestines.
To make the pickle more delicious, you should use sticky figs because glutinous figs have a sweet, crunchy and less acrid taste than ordinary figs.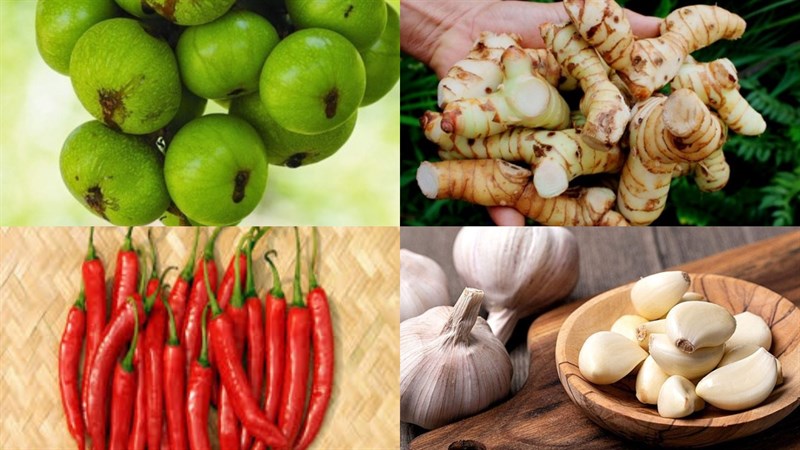 Implementation tools
Glass jars (glue), knives, pots, induction cookers, cutting boards,…
How to cook pickled figs
first


Preliminary processing

Wash and soak figs in dilute salt water for about 20 minutes and then cut into thin slices to eat. Then soak in a mixture of salt and diluted lemon for about 20 minutes, then remove and rinse until all seeds are gone.

Continue soaking figs with 500ml of culture vinegar and 1 tablespoon of salt for 30 minutes to reduce the acrid taste of figs.

2


Prepare other ingredients

The galangal you peel and cut, the garlic 1 bulb will be finely chopped and 1 bulb sliced, the horn chili will take the seeds and slice.

3


Spicy salt

First, you put the pot on the stove and put in the pot 190ml fish sauce, 210g sugar and 100ml vinegar. Close the lid and cook until the sugar dissolves, then let it cool.

Next, use a round racket to pick up the figs and put them in a pot of cooled sugar vinegar water, then add galangal, chili, and garlic. Mix well to infuse the seasoning. Finally put in a glass jar.

Note

To supplement when salt is not contaminated from plastic during fermentation, you should use glass (glue) jars instead of plastic jars.
Before salting, remember to disinfect the glass jar by rinsing it with boiling water and wiping it thoroughly.
In addition, if you can use it all right away, there is no need to add salt to the glass jar for preservation.

4


Finished product

When finished, pickled figs will have a characteristic aroma of garlic, galangal and fish sauce.

When eating salted figs, we will feel the full flavor of crispy, sour, acrid, salty, sweet and spicy. Served with boiled snails, fried spring rolls, and banh chung, what's better, right?
How to make pickled figs
Material
This instant salted figs has very simple ingredients, including:
Ingredients for making pickled salt
1 kg of figs
1 liter of filtered water
30 grams of white sugar
50 grams of fine salt
Garlic, chili
Steps to eat immediately
Figs remove the stem, soak in a basin of water mixed with a little vinegar, leave overnight. Doing so to completely remove the plastic in the figs, when soaked, does not darken. However, you should not soak figs for too long. Because of that, salted figs when finished products are easy to soften, not crispy, leading to loss of taste, not delicious.
Put the pot on the stove, bring the water to a boil. When the water boils, reduce the heat to low, add the sugar and salt, stir gently until completely dissolved. When the seasoning has dissolved, return the mixture to the stove to cool. Wait until the salt water and sugar are only slightly warm, then add the sliced ​​garlic and chili.
Sung after salting
While waiting for the water to cool, take the figs out of the basket to drain, put them in a glass jar or a salting device. Add salt water and diluted sugar to cool, use bamboo mulch or plastic bags to place on top so that the upper part does not come into contact with the air, so that the figs are completely submerged in the water, avoiding the case of the figs floating on the water. will be bruised and damaged.
At this point, the salted figs are basically finished, you just need to wait 2-3 days for the spices to fully infuse the figs to be able to eat.
How to make pickled figs
Material
Ingredients of figs salt
Fresh figs: 500g
Fresh lemon: 1 fruit
Horny chili: 2
Garlic: 2 bulbs
Sugar and salt
You are viewing the article at: https://hagvietnam.com/
Steps to salt figs
Garlic peeled, washed, crushed and chopped. Remove the stem from the chili, wash it and also cut it into small pieces. Wash lemon, cut into pieces and squeeze out the juice, set aside. Peel off the stem, cut the figs in half, soak the figs in diluted salt water for about 30 minutes. This is a way to help reduce acrid, not darken and when pickled, figs will have a beautiful white color. Then take it out and let it dry.
Salted figs have a pretty simple way to do it
After the figs are drained, put the figs in a large bowl, add 2 tablespoons of sugar and 1 teaspoon of salt, and mix well. Next, add lemon juice, 1 tablespoon minced garlic and 1 tablespoon sliced ​​chili, mix well again. Let the spices infuse for about 30-45 minutes. Or you can season it to suit your taste. Finally, serve the salted figs with rice or serve with some boiled dishes.
You are viewing the article at: https://hagvietnam.com/
How to eat salted fish?
Salted figs are dishes with similar properties to eggplants or melons. Salted figs are suitable for eating with rice or with greasy and fatty dishes such as boiled meat. You can also eat salted figs with seafood dishes such as boiled snails, grilled shrimp, etc.
When eating, you can leave the figs whole or cut them in half, depending on your preference. However, the best thing is to cut it into thick slices and then mix it with a mixture of sugary dipping sauce, vinegar, garlic, and chili and mix until the figs are absorbed. This method makes the dish both easy to pick up and beautiful and at the same time can enjoy the full flavor of this dish.
Salted figs are very easy to eat, can be eaten with many dishes
Just a few simple steps, we have delicious crispy salted figs that change the taste, right? Vietgle has just introduced to you how to salt the most delicious crunchy figs that can be eaten right away.
You are viewing the article at: https://hagvietnam.com/
How to preserve pickled figs?
You can store figs in the refrigerator to not only keep them longer, but also crunchy and delicious.
Note that it should only be stored for a maximum of 1 week. After this period of time, the figs will rot and become inedible.
To prevent the figs from darkening when salted, put filtered water in a tightly sealed plastic bag, then press it over the mouth of the jar to prevent the figs from floating, causing scum on the surface.
Above is a super quick, super simple way to make sweet and sour pickled fish that we want to share with you. Hope you will have success with this dish to enrich your family's dining menu! The Daily Menu section of HAG Việt Nam is still updating many other useful recipes for you, please visit often to discover together!
HAG Việt Nam also helps with the following problems:
Eaten with salt and eat right away
How to make salted lemongrass chili pepper
How to make sweet and sour salt figs
How to make salted fish to eat snails
Traditional way of salting figs
Northern way of salting figs
Add salt to keep for a long time
How to salt figs, kimchi
Bạn thấy bài viết 5 Cách làm sung muối xổi chua cay giòn ngon không bị chát hấp dẫn cho bữa cơm gia đình có khắc phục đươc vấn đề bạn tìm hiểu ko?, nếu ko hãy comment góp ý thêm về 5 Cách làm sung muối xổi chua cay giòn ngon không bị chát hấp dẫn cho bữa cơm gia đình bên dưới để HAG Việt Nam có thể thay đổi & cải thiện nội dung tốt hơn cho các bạn nhé! Cám ơn bạn đã ghé thăm Website: hagvietnam.com của HAG Việt Nam
Nhớ để nguồn bài viết này: 5 Cách làm sung muối xổi chua cay giòn ngon không bị chát hấp dẫn cho bữa cơm gia đình của website hagvietnam.com
Chuyên mục: Ẩm thực